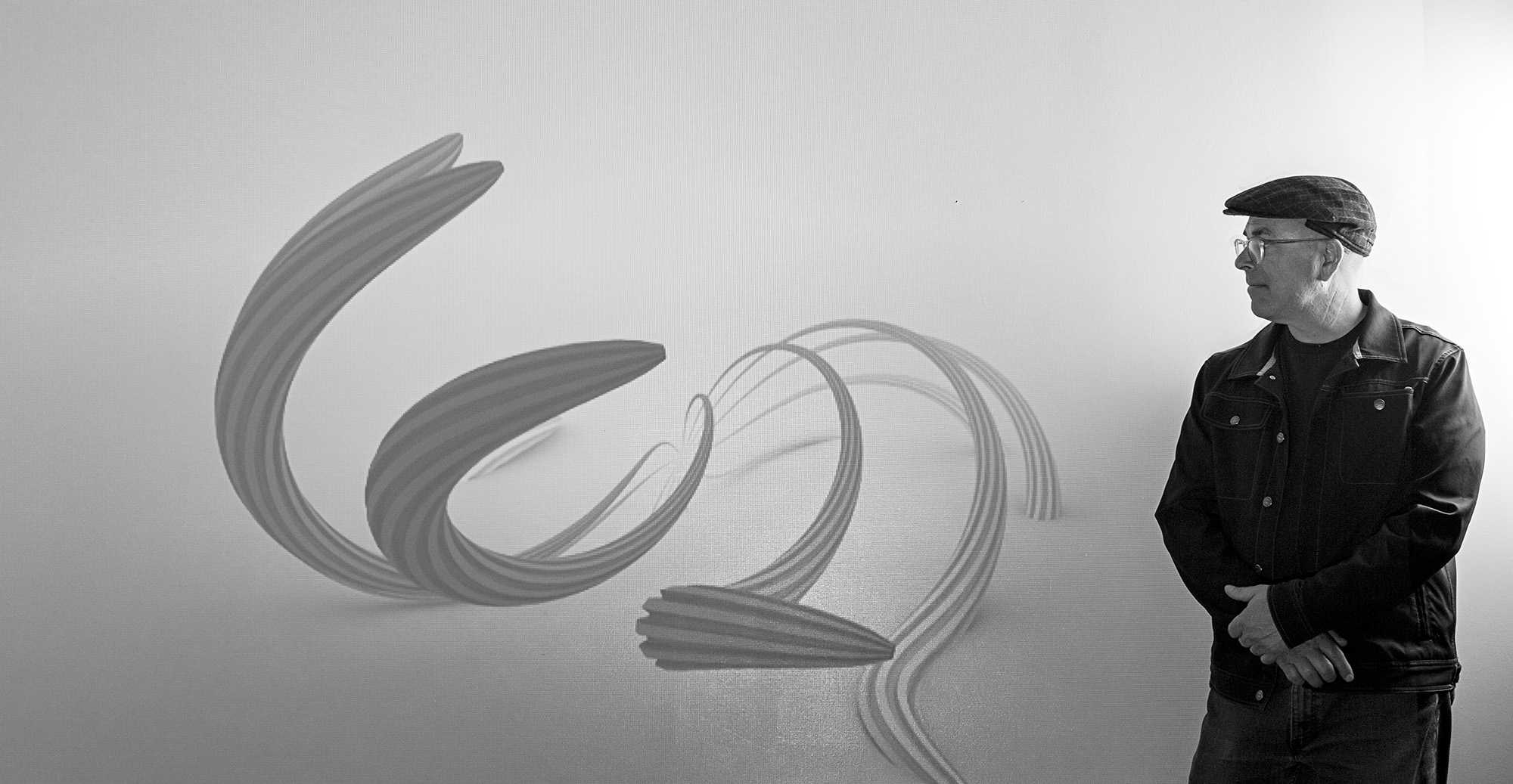 Photography by Shana Cruz-Thompson
Artist Statement
"I am very interested in using generative processes in my work. To 'generate' a work, I might start with a prompt and then design a system or process to build the work. That system might be the algorithm to build a curve that copies itself or translate incoming data from a sensor to influence sound or video. In my paintings it may be a simple concept such as drawing proportions based on level of interest or an exploration of materiality that comes from liquid flows and sedimentation. For me, these random processes are a chance to interpret the beauty that I find in nature and its underlying geometry."
Bio
Bryan Leister works across a broad range of media reflecting his education in design and his career as an illustrator and artist. His illustration work has appeared on the cover of Time, BusinessWeek, Forbes, Der Spiegel and the Atlantic Monthly. He has won over 100 awards from competitions such as Communication Arts, AIGA, Graphis, PRINT, including gold and silver medals from the Society of Illustrators in NYC. His oil paintings are in the collections of The Museum of American Art, Kohler, Celestial Seasonings, James River Paper Company, Blue Cross Blue Shields and many private collections. His original portrait of Pierre Le'Enfant is in the The District of Columbia Historical Society museum in Washington DC.
His work has been exhibited at the Urban Institute for Contemporary Arts, Grand Rapids, MI, Parthenon Museum Nashville, The Denver Museum of Nature and Science, Arvada Center for the Arts and Humanities and The Corcoran Gallery of Art. He has collaborated with modern and contemporary ballet dance companies for performances at The Kennedy Center Millenium Stage in Washington DC, Perfomatica in Mexico, the King Center in Denver and the Atlas Center for the Arts in Boulder.
Leister is an Associate Professor at the University of Colorado Denver teaching illustration and design. He is represented by the Walker Fine Art Gallery in Denver. For studio updates and exhibitions subscribe to my newsletter or email me at bryan@bryanleister.com
Application Development
In addition to coding for collaborations and generative art, Leister has developed games and interactive touch screens for museum exhibitions. Clients include the Denver Art Museum, University of Colorado Denver, Next Stage Gallery, Denver Performing Arts Center and the Friends of Dinosaur Ridge. Links to these projects are in the Applications section.